SPIKE is a Contact Measuring System
Ultimate Solution for Orthopedic Shoe Technology
Spike is a 3D contact measuring system for foot soles. The measuring principle is perfectly adapted to the requirements of orthopedic shoe technology. With 1055 sensors, Spike measures the foot sole and creates a high-quality 3D footprint with optimal pressure distribution.
Compared to optical measuring devices, Spike has the advantage that it scans the foot soles directly. Due to the mechanical component, the soft tissue is pressed through more than the bone tissue, resulting in a footprint with uniform pressure distribution over the entire surface. The measurement with Spike is comparable to a 3D scan of the footprint in the step foam. However, Spike offers the advantage that the customer's foot can be positioned precisely.
Another great advantage of Spike is environmental protection. The use of Spike eliminates the cost of step foam boxes as well as their transport and disposal. This not only reduces financial expenses, but also the ecological footprint of orthopedic shoe technology.
Spike enables precise measurement in the half-load sitting position. The measurement can be started easily via the start button on Spike or via the software. With a contact measuring height of 45 mm, the measurement takes about 20 seconds. During the measurement, you have both hands free to hold the patient's foot in the correct position.
We believe Spike is the ultimate solution for orthopedic shoe technology, helping you create accurate and efficient footprints while benefiting from the environmental advantages.
Spike was developed as a built-in device and is usually installed on a platform. Installation on a platform allows stable and secure positioning of the foot for precise measurements and comfortable working. Alternatively, Spike can be installed in a wheeled case for mobility and flexibility.
Regardless of the mounting method, Spike ensures reliable results and makes it easy to perform measurements from both the back and front in half or full load.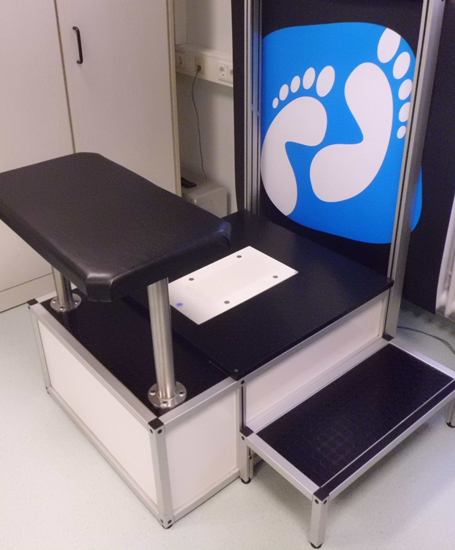 Spike built into a platform for measuring from behind at half load. It is the ideal solution for accurate and comfortable footprint measurement. More example of installation .pdf
After connecting to the PC, Spike is automatically recognized as a 3D scanner in all feetinform GmbH software products.
The measurement can be started either by a click of the mouse in the software or directly on the spike device by pressing the start button. In the process, the footprint is created by moving the pins up and down. It is important to hold the patient's foot during the measurement to achieve the best possible results.
The footprint created is automatically transferred to the software and is immediately available for further analysis and adjustments.
The measurements can be exported in STL format or created as a 1:1 printout in PDF format.
Measurements from other 3D scanners can also be imported into the software via the STL import. These are also automatically aligned, cleaned up and smoothed.