The feetinform milling blocks
Quality doesn't have to be expensive!
Optimal milling result – that is what we are focused on. The feetinform milling blocks was developed keeping in mind requirements from the production of orthopedic insoles. We offer you more than 20 years of experience in milling.
The feetinform milling blocks won't bother in the milling process with dust or noises and you can use them easily for polishing, sticking and cutting. That guarantees an excellent and high-quality result.
The standardized form in optimal geometry is drafted by requirements from practice and optimized regarding to material consumption and costs of transportation while adhering to quality criteria.
Our milling blocks are simply mounted in the feetinform milling machine and guarantees an excellent result.
It is your choice:
Our range provides a great variety of different degrees of hardness and attractive colors. Please to not hesitate to contact us if you need an advice in choosing the right type of the block.
There is also possibility to compose and produce your own block types in our center.
Several versions are available as standards in 7 sizes.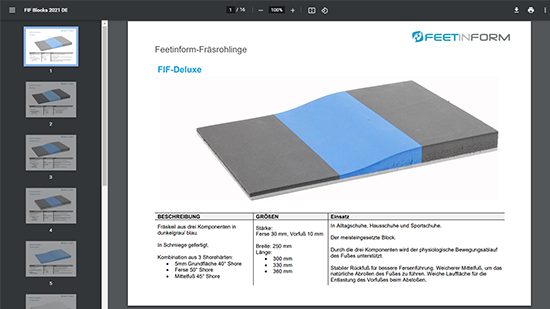 Delivery contents:
Standard programm
Customer variation